Patrick Wu, Jinming
Keybase | LinkedIn | Twitter | ZhiHu
About
Love photography, designing, coding, hiking and Ramen; Love exploring new things, and always have a lot of ideas.
Graduated in Hong Kong University of Science and Technology, a member of Whitewater Foundry, developer of WSL Utilities, UWP Developer as WE. Studio and founder of (no longer active) Windows Phone community WPerfect.
You can find me on SDF, GitHub, GitLab and Stack Overflow.
You can support me via GitHub Sponsors or PayPal.
You can also contact me via me at patrickwu dot space.
My CV in pdf can be found here.
Posts
| OSX WSL WSL2
> Blursed WSL: use WSL on Mac via Parallels Desktop

| CSS HTML Web
> An even better motherf**king website

| Darwin WSL WSL2
> 在WSL2上编译并使用Darling

| WSL
> 在WSL上配置输入法

| WSL
> Setup Input Method for WSL

| Linux Server Ubuntu
> Format drive larger than 2TiB in Alicloud

| Antergos Linux SSH Ubuntu
> Collection of Continuing Updating Notes On Linux

| Powershell WSL
> How to stop Powershell from resetting your WSL console font

| C# Microsoft Build WSL WSL2
> Microsft build 2019: My Tiny Little Summary

| Hyper-V Linux Windows
> Make Hyper-V great again -- hvc command

| Annual Review
> 向後2018,向前2019

| Arch Linux WSL
> fix Octave LibQt5Core issue in WSL Arch Linux

| SQL WSL
> Start apps without systemd in WSL

| SSR Server
> Let's talk about Shadowsocks R

| GitHub Shell
> How to change multiple emails in Your Repos

| Winodws 10 Insider
> forcely enable Sets in Windows 10 Insider Preview

[More](/archives)
Speaks
Scripting with WSL Interoperability: Tips & Tricks @ WSLConf 2020
[ Resources ]
Projects
Multimedia Works
My photographs are both availble on Behance and Unsplash. You can find the videos I made on Youtube.
SurfaceLinux Wallpaper - a wallpaper series
[ GitHub ]
Jokes on Me - A comic about me. (Under Construction)
Friends
Tags
Not the Footnote
The site is proudly powered by Hexo and using a site strcuture from the Hexo theme called Nayo.
The site is powered by the glorious CSS from bettermotherf**kingwebsite.com with some tweaks. Censored the f-word for good.
This site is hosted on Digital Ocean. Deploy your next app in seconds. Get $100 in cloud credits from @DigitalOcean using my link.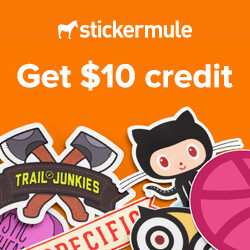 Possibly the Footnote
Main | Access | RSS | Sitemap
2008 - 2020 | Patrick WU Jinming